Interview from the 3 co-founders of ISKN who will present a new technology called iSketchnote at SIGGRAPH 2013 !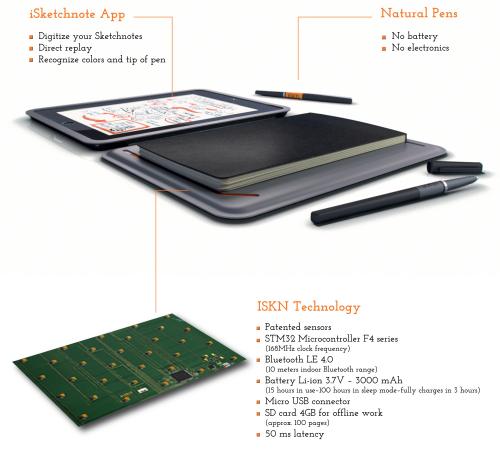 You're here at the French SIGGRAPH stand to launch a new technology called "iSketchnote". Could you tell us a little more about the how this project originated? What usage need does this fit?
The basic premise behind the project is simple: "allow each and every one to interact with the digital world and benefit from the power of digital, without a change in habits, without learning costs" starting with the familiar objects of our daily lives.
ISKN is intended for absolutely everyone, from 7 to 77, both for techies and for those who are totally impervious to new information and communications technologies.
Since it streamlines interaction with the digital world via a totally-invisible link between day-to-day objects and digital spheres, ISKN fits the "augmented value" concept, corresponding to a mutual enrichment among physical objects, the digital dimension and digital world the physical objects, thereby repositioning human beings and their 5 senses at the heart of the debate.
In this vein, the digitization of handwritten elements has proven to be of particular interest. With iSketchnote pencil-and-paper diehards can continue to use their scratchpads or faithful pens without having to change any habits, while still making the most of digital services (information storage, filing, post-processing, sharing over social networks, etc.)
You intend to start a spin-off soon to market this product. What were the marketing options open to you, and what influenced your final decision?
iSketchnote, "THE NATURAL EXPERIENCE OF PEN AND PAPER WITH THE POWER OF YOUR iPad" is a smart iPad cover that integrates a new digitizing technology with the convenience of a notebook. It allows you to digitize your sketches and notes in real time with the added value of retaining a hard copy for your files. ISKN, soon announce on September their pending Kickstarter crowdfunding campaign to raise funds for the manufacturing and distribution of iSketchnote.
Writing represents a stronghold in our roadmap. With iSketchnote we've established a link between the digital reign (via pads, and their exponential growth) and the reign of traditional drawing. Our target is a very specific one: the sketchnoters (paper lovers) who sway between art and professional spheres, on the lookout for digital advantages.
For this target group, we also stand out from our competitors because – to date – iSketchnote is the only product to provide the possibility of real-time digitizing of sketches and drawings using an array of colors.
No matter what it's called, graphic facilitation or sketchnote, this is an idea that is spreading naturally throughout the business world. It's not only used for creative sessions but also for strategic top-management meetings.
This first product designed for sketchnoters, or other facilitators, could prove to be a strong driver for introducing other ISKN products to companies. Easy to use, digitally-powerful, available for different formats (from A5 to 4 x A0), ISKN products adapt easily to business needs (collaborative tools, white boards, etc.)
While iSketchnote is the first product to integrate ISKN technology, it's not the only one. We're already working on embedding ISKN technology in many new products, for other fields besides writing and drawing, such as gaming, CGI animation and more.
Could you briefly describe your professional background and also what led you to take up this challenge?


There are 3 cofounders with totally different but complementary profiles.
Tristan, a graduate of ENSEIRB-MATMECA (electronics and embedded systems), recently hired at CEA-LETI (2012), has worked on the very first developments of the ISKN technology and is now leading ISKN's R&D.
As for Timothée Jobert, an expert in user-centered design, in 2006 he began to work managing the CEA's open innovation division and participated in the exchanges on the Movea start-up. Taken on by the LETI in 2010 he takes charge of user-centered design operations and also heads different R&D projects. His set aim in managing usages/user-experience dimensions is to design value-enhanced proposals to fit the needs and expectations of end-users.
As for myself, an engineer trained in microelectronic materials and graduate of the Grenoble Business School, I began my career at the OpSitech start-up, specialized in the design and production of new optical components for broadband t telecommunications. After that I held various positions within the CEA-LETI, in information and communications technologies, including regular work in both nanoelectronics and MEMS (Micro Electro-Mechanical System). In 2010, while head of the CEA-LETI laboratory, and having lengthily explored technologies that could lead to creation of a business concern, I decided for value-enhancement and joined with Timothée and Tristan to found a start-up. Today I'm in charge of the market and strategic affairs for ISKN.

The shared beliefs and motivations of the 3 co-founders:
To help maintain employment in France (at our own level) by creating direct and indirect jobs through a 100% French high-tech product, covering design on through to implementation.To participate in the changeover to digital environments and play a significant role through a new approach. This approach, on the one hand, consists of imparting increased digital value to the physical objects of our daily lives and, on the other hand, of enriching the interaction of physical object with the digital world, while pinpointing the paucity of digital interactions existing today.
Individually, this represents a renewed opportunity to be part of the start-up horizon, to enhance a high-potential and "magical" technology, to change course, and to personally develop through this new professional challenge which is entrepreneurship.
You're here at the SIGGRAPH: what do you hope for with this event? What are the stakes for you?
We hope to benefit from more buzz thanks to the specialized media at Siggraph, to obtain more coverage via the press or other top blogs (wired, techcrunch, best of media…).
We'd like more buzz or visibility among the big players in CGI animation, gaming or drawing, players who might integrate our technology into their products. If possible, we hope to set up contacts for future co-development or partnership discussions…
We also want to show the worth of our technology for such fields as gaming or CGI animation.


Last of all, we hope to accelerate this showcasing and save time in our value approach especially via networking, to expand on the contact opportunities that this type of international event can provide.

For more information about isketchnote
Phone: +33(0) 6 32 63 11 84 / www-leti.cea.fr / www.isketchnote.com
Contact: Jean-Luc Vallejo / jean-luc.vallejo@cea.fr