It's a Zucchini's Life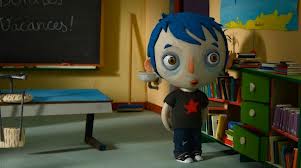 A feature-length stop motion film produced in Switzerland and France.
The famous Aardman studios with its stars Wallace and Gromit characters are not the only ones to create great stop motion.
Presented with some success at the Cartoon Movie in March 2012 in Lyon, the proposed stop motion feature film "It's a Zucchini's Lfe" will go into mass production in Lausanne and Villeurbanne beginning in autumn 2013.
It all began with a novel by Gilles Paris: "Autobiography of a zucchini", published by Plon. After ten years of production and realization of animated short films, Claude Barras, a Swiss director based in Lausanne, discovered the story and decided to work on a film adaptation. He convinced Max Karli and Rita Productions, based in Geneva, to join him in his project.
After working hard on the writing and adaptation an encounter with the celebrated French writer and director Céline Sciamma (Water Lilies, Tomboy) proves decisive.
In addition to a short pilot evoking the film's visual world, the script was completed in September 2012.
At the same time, the French part of the coproduction come together with Gebeka Films(Lyon) and Spirit Productions (Paris).
Next began the fundraising with the production budget of $ 5.4 million ideally shared 50/50 between the Swiss side and French side.
At the end of July 2013, the budget is almost full and production ramps up in the coming months with the end of pre-production work done between France and Switzerland including: puppet research, choice of actors and recording voices, backgrounds and characters, etc..
In autumn 2013, the film studio will be installed for about a year at the pôle PIXEL of Villeurbanne. Five or six sets will be dedicated to the 1 hour 20 minute movie at a rate of about 4 seconds of film per day and animator.
The post-production work and laboratory will then be completed on the Swiss side.
Production will come to close in spring 2015, marking the end of a concrete artistic and financial cooperation between Switzerland and France.
For more information contact Marc Bony at Gebeka Films
marcbonny@gebekafilms.com