An expert's viewpoint: the intersection between video gaming and animation
By Bruno Chabanel – Manager of Artefacts Studio in Lyon - video game development studio
What was your professional background before presiding Artefacts Studio?
I studied history at the Université Pierre Mendès France in Grenoble (obtaining my masters in 1995). Then I tried working in journalism but the sector had imploded so I found work doing video game testing at Infogrames, and meanwhile continued to train as a systems designer with the intent of becoming part of the in-house Design division.
After the layoff plan, together with several former Infogrames employees and friends from the "paper" role-play world (a childhood hobby), I founded Artefacts Studio in late 2003.
What's Artefacts Studio's present-day editorial line?
For 9 years Artefacts handled work-for-hire for other studios and also served as a production operator for their licenses. Thanks to these strong foundations Artefacts has been able to weather the current crisis. Today it's positioned on trans- and cross-media projects for role-play and action/adventure gaming for the digital generation, working with partners coming from animation or from 3D films such as Forge Animations, Teamto or Nomad Films.
To strengthen this editorial line, Artefacts is working on 2 cross- and trans-media projects which are Le Donjon de Naheulbeuk and La Horde du Contrevent, starting with pre-production and then moving on to co-production work.
However Artefacts has also kept up its original work-for-hire for studios and production editors. Right now it's working with about thirty others on various projects including 2 FUI* and is preparing co-production projects with 2 companies emanating from the animated film industry.
*The Fonds Unique Interministeriel (single interministerial fund) finances joint research and development projects among competitive clusters.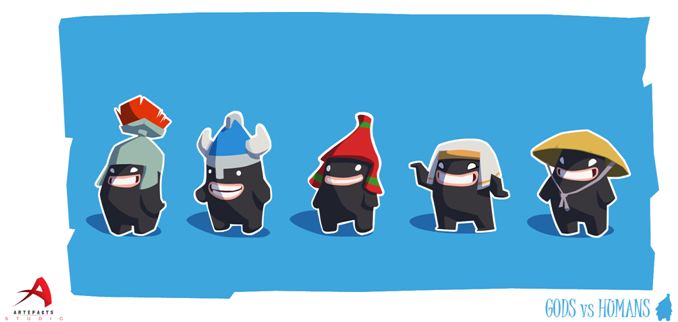 What strategy have you chosen at Artefacts to draw you closer to the animation sector? How is it configured, in concrete terms?
I think that video gaming has a lot to learn from the animation sector, especially in the way it is structured and organized, since this still remains perfunctory in the gaming sphere. The animation industry is close to the video game sector, even if certain differences persist.
Moreover the general public today, especially the digital generation, wants strong worlds to identify with and become part of. This is what we see with the most recent Batman products, The Lord of the Rings and Bilbo, especially now with A Song of Ice and Fire.
Today the public doesn't really care what the medium is: whether video game console, dematerialized PC, cell phone, pads, free-to-play, MMO, social games, films, animated series, comics or novels. If a person is struck by a property, he or she will try to get all of the products on different media. Today adapting to this established fact and moving closer to the animation sector just seems to be what's most natural.
Our strategy is centered around 2 points:
A strategy based on projects with strong environments which can lead to rich and original gameplay. That's why La Horde du Contrevent with Forge Animation and Le Donjon de Naheulbeuk with Nomad Films appeared to us to be the right licenses: novel approaches and real trans-media (La Horde) or cross-media (Le Donjon) partnerships so that we could expound on the projects and on the gameplay.
At the same time, having seen a number of studios – not only competitors but also partners – close down in recent years, we've sought to implement an innovative strategy based on libraries/inventories rather than working on a global game engine. For this we contacted Teamto (French independent producer and animation studio) to work via a state-approved FUI on a fluid physics library which will represent a true added value for our future productions targeted on action/adventure games and role-play.
Concretely, this led to the signing of a co-production contract for La Horde du Contrevent in November 2012; we're now also finalizing a co-production contract for Le Donjon de Naheulbeuk with Nomad Films. Meanwhile, we've been working with Teamto since mid-2012 on the Dynam'it FUI, now approved by the Ministry of Economy, Finance and Employment.
What obstacles have you identified in this reconciliation strategy?
The first obstacle is the timing and the present economic crunch which demands reactivity and flexibility and which sometimes impedes the crystallization of a true strategy with ones partners.
Next, even if the two fields are close, there are differences and reserves remaining, especially in the processes, the use of tools and techniques, the organization and the financing which differ more or less between the video gaming and the animation sectors. It's not always easy, especially when there's little time to talk things over with ones partners who, themselves, are having to manage their own constraints.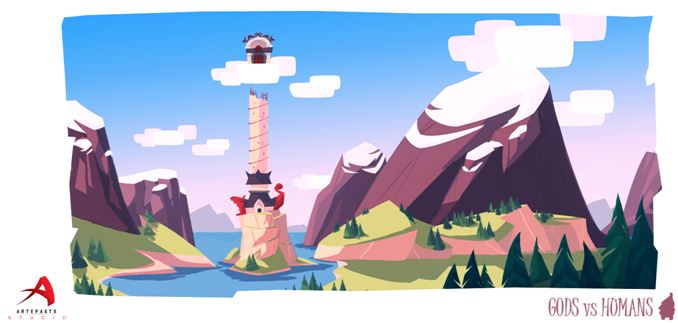 Which obstacles have been removed?
I'd say that there's no longer a problem of acknowledging the occupations of each and all, and the professionalism that exists in each of the sectors.
Which ones are upcoming?

See above.
Which obstacles are easiest to get around, in your opinion?
I think that the issues of organization, processes, use of tools and narrative techniques are problems which will be solved over the course of time.
What are the obstacles you're confronting which have no solutions yet, or for which there's not enough visibility today?
I think that one of the major remaining problems for our understanding each other's sectors is the type of financing involved. In animation, the pre-production and writing phases are financed. In video games, publishers have withdrawn from that part of the work with independent studios, and this is a serious problem because it can lead to misunderstandings and differing timelines on projects' definitions and developments.
In the video gaming world we don't have access to banks like Coficiné or Cofiloisirs which are specialized in financing co-production projects.
Yet another problem is for each stakeholder to be able to evaluate the technical phases since – even though our operations are similar – they remain different. In gaming one difficulty is that our characters, worlds and gameplay must move through game engines, even highly-perfected ones, whereas animation does not have to deal with this aspect.
At any rate, in my opinion trans-media and cross-media – whether for video gaming or animation – represent a fountainhead for the future.